BIOMASS USED AS FUEL
Why to burn biomass?
Biomass is the oldest and at the same time ecological resource of primary energy. Its use constantly dynamically grows, not only because of its favorable price but also due to its impact on the environment.
Biomass is the most affordable fuel. Unlike oil, natural gas or coal it is enough everywhere and it is a renewable energy resource.
Basic types of energy-using biomass
Among basic types of biomass suitable for energy purposes are:


Dendromass – wood biomass (wood chips resulting from logging in forests, and wood processing in sawmills, wood cuttings, bark, sawdust, shavings, fast-growing woods, etc.)
Phytomass – plant biomass (stalks – grain straw, rape straw, hay, flax, corn stalks and others).
The aim of biomass combustion is usually heat production or electrical energy production by combined way. In order to produce this cheap energy, you need to use the cheapest and most affordable fuel in the neighbourhood. This is mainly residual and otherwise unusable wood biomass with high moisture, unstable fraction and non-combustible admixtures or unbroken straw.
There are few boilers that can burn this fuel without any problems. This is why company TTS has focused on this while developing their products.
TYPES OF FUEL USED IN BOILERS
Boilers Vesko-B and Vesko-T
Vesko-B and Vesko-T boilers are primarily designed for combustion of classical wood biomass (uncontaminated wood mass according to ČSN EN ISO 17225-1). Based on our experience and perfomed combustion tests we have verified that a bigger range of fuels can be burned in these boilers as well. Types of possible fuels: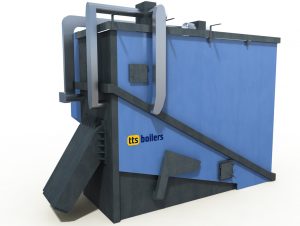 bark

forest chips

wood chips

wood waste

sawdust

shavings

peeled chips

pellets

briquettes

peat

chicken litter

corn straw
Basic fuel properties:
Calorific value of fuel or fuel mix: Q= 7-14 MJ/kg
moisture: Wmax =55%
Bulk density: BD = 250-350 kg/m3
Vesko-S boiler
VESKO-S boilers are designed for combustion of agricultural biomass – stalk fuels in the form of square bales. Based on our experience and performed combustion tests we have verified the possibility of burning the following fuels: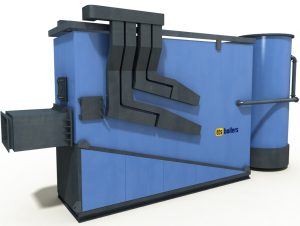 grain straw

rape straw

corn straw

hay

flax

triticale
Basic fuel properties:
square bales with dimensions: length 2,2 to 2,5 m/ width 1,2m/ height 0,7 to 1,2 m
moisture: Wmax= 17%
calorific value Qir = 14,2 MJ/kg