Description
The boiler has a self-supporting, entirely welded cylinder construction. The basis there is a boiler solid with cylinder form for desiderative medium and required output in horizontal three-droughting arrangement. Added flue makeing ideal conditions for building quit capacious combustion chamber within burn out zone and utilization of suitable grate. In the combustion chamber there is a brickwork which form and size is in accordance with concrete kind of fuel and requirements of filling up of temperature in combustion chamber with respect of perfect combusting and low emissions. In the end of combustion chamber there is a burn-out zone where comming up to cooling of ash matter and to burning out of wastes before enter to convection part of boiler. Two bundle of fire tubes and collector for draining of wastes is connected to flue with combustion chamber. Flue and both of turnround chambers having door for cleansing, service, maintenance and possible repairation.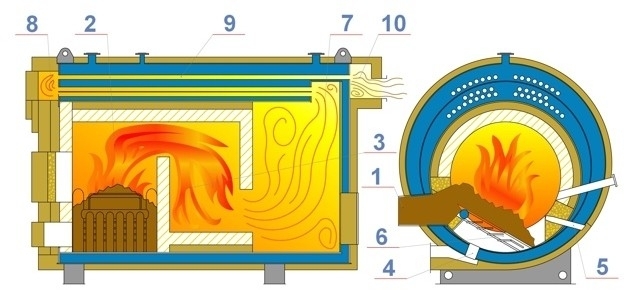 1.Input of fuel, 2. Combustion chamber, 3. Burn out chamber, 4. Primary air, 5. Secondary air, 6. Strong grate cooling by water, 7. Turnround chamber  I., 8. Turnround chamber II., 9.Fire tubes, 10. collector for draining of wastes
Purpose and description:
EKOVARIANT boilers are designed for heating plants of: :
Industrial buildings (hall, kiln,…)
Building with preparing of WSW-warm service water (offices, schools,…)
Factories with lower consumption for technological purposes (hospitals, laundries,…)
Factories with higher consumption for technological purposes (breweries, paper-mills,…)
This conception makes it possible to manufacture a heat source having optimal parametres in accordance with in the concrete requirements of the warm-water net with minimal built-up area dimensions. Boilers can be delivered in warm-water, hot-water and steam variations, and that within the range of parameters:
Thermal output 0,5÷ 1,0 MW
Operating over-pressure 0,3 ÷ 1,0 MPa
Types of fuel
Fuel
EKOVARIANT boilers are designed for combusting of various kind of wooden fuel (sawdust, wooden chips, bark, palette, briquette, etc.) and other various physical properties (moisture, density, granularity, calorofic capacity, content of ash matter, temperature of smelting ash matters, etc.) which is arising during wood processing in the sawmills, wood mining, growing works in a wood.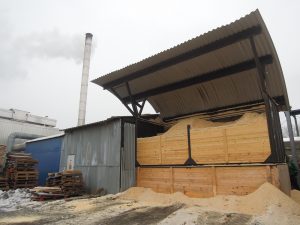 Transport routes of the fuel
Fuel is shipped from the fuel depot to the intermediate tank (or silo). From there, the boiler's boiler furnace arrives via screw conveyors. The boiler technology also allows the use of a hydraulic charging press, which is suitable for transporting the wood mass of a non-fractional fraction. Before entering the combustion grid, the fuel is forced through a cooled tunnel to prevent the fuel from burning.
Advantages of the concept
Advantages of the conception
Wide supply of combustion apparatus and its accessories which is covered all possibilities and requirements occuring during wood and wood waste combusting in practice.
Constructionally perfectly sophisticated and integral system
High quality of combusting and low emissions – we´re guarantee emission limits applicable in EU countries. • High utility properties of our products
 Comprehensive and individual care about customer
Operating after-guaranty service